The most successful SUV ever
A curious bit of logic has convinced
a blogger
to lump the unwaveringly-successful Jeep Wrangler in with a number of "failed" SUVs, ultimately concluding with the notion that Jeep should cease production of the 2-door version of the Wrangler. You can read the article
here on The Truth About Cars
.
His article's introduction and conclusion contrast the lifted-and-cladded
Outback
variant of the Subaru Legacy as a good idea, with the 2-door SUV variant as a bad idea. He criticizes the manufacture of such worldwide successes mentioned in his article as the Isuzu Trooper, Chevy Blazer, Ford Bronco, Jeep Cherokee, and others for no other reason than he thinks 4-door body styles offer greater utility. His vehicular expertise can be questioned by the fact that he completely missed mentioning the 2nd, 3rd, and 4th most successful SUVs in the world: the 2-door Land Rover Defender, Toyota Land Cruiser, and Suzuki SJ (known in the U.S. as the Samurai). These are vehicles whose worldwide reputations, longevity on the market, and overall success are only eclipsed by that of the 2-door Jeep's.
Land Rover Series III
Toyota FJ40 Land Cruiser
Suzuki SJ413 Samurai
The primary reason for a 2-door vehicle is improved performance over its heavier, longer, and more expensive 4-door version. Not everyone needs or wants a long-wheelbase land barge; shorter 4x4s are more maneuverable offroad, require smaller tires to get over any given obstacle, provide faster acceleration and increased fuel economy, and demand fewer of the Earth's resources to assemble and operate.
Geo Tracker
Not every 2-door vehicle in this list is physically shorter than its 4-door version, but there are other reasons to choose the 2-door version. For instance, the 2-door version of a vehicle is usually the only way to get the convertible top, as exemplified by the Geo Tracker, Isuzu Amigo, Kia Sportage, and Toyota 4Runner. Another benefit of the 2-door bodystyle as found in the Jeep Cherokee and Chevy/GMC S-Series Blazer/Jimmy is that some have longer doors than their 4-door versions; I can speak from experience that makes entry and exit much easier for taller and heavier drivers.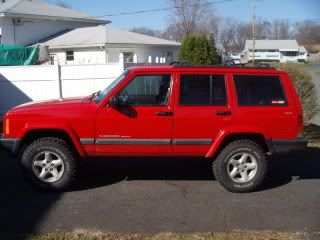 Different length doors on Jeep XJ Cherokees
Besides performance, 2-door vehicles have always been regarded as more stylish and more youthful than their 4-door alternatives. Since vehicles are every bit as much a personal styling accessory as a
fascinator
, their popularity (in both car and truck markets) ebbs and flows as automotive styling trends evolve. The 2-door versions of the 4Runner, Pathfinder and S-10 Blazer, for instance, are much more highly-styled than their frumpy 4-door siblings.
2-door Chevrolet S-10 Blazer ZR-2
4-door Chevrolet S-10 Blazer
2-door 4x4s are a large niche in which many manufacturers have dabbled; a similar, but much smaller fad is currently being played out by German near-luxury manufacturers with their competing "4-door coupes." The Mercedes CLS-Class, BMW 6-Series Gran Coupé , Porsche Panamera, Audi A7/S7, and Volkswagen CC are players in this brand-new niche, competing for a tiny fraction of the yearly sales that 2-door 4x4s saw in the 80's, and 90's. Yet the blogger in question isn't complaining about the availability of these oddball cars in the free market. . . .
Mercedes-Benz CLS "4-door coupe"
And that's ultimately what this all boils down to: the reason these niche-market vehicles are available is because there are buyers who are willing to purchase them. 2-door vehicles are much less popular today than they were in the 70's, 80's, and 90's, so it's only natural that the weaker players in the market have disappeared. Just as there is no longer a market for the Suzuki X90, Isuzu Amigo, and Daihatsu Rocky, there is also no longer a market for the Mercury Cougar, Plymouth Road Runner, and Oldsmobile 4-4-2. This doesn't mean that they weren't great cars for their time; they've simply gone out of style as automotive tastes have changed.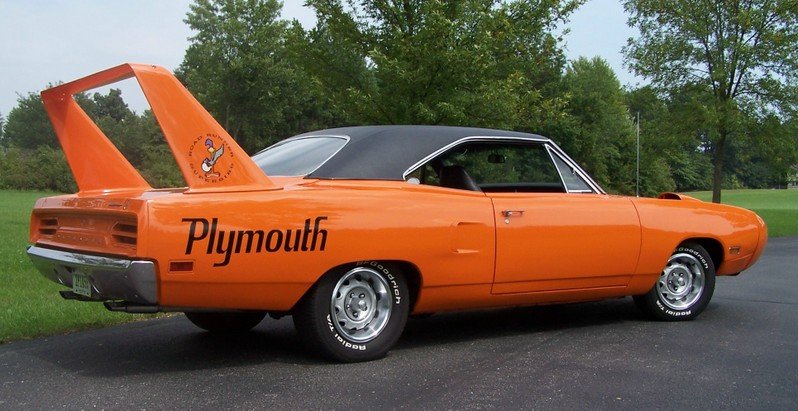 Plymouth Road Runner Superbird
The 2-door Jeep Wrangler remains a sales success because it is exactly what a
real
Jeep has always been: the most rugged and capable 4x4 you can buy, with the world's greatest selection of aftermarket parts to fine-tune your Jeep to your own particular needs. 56,000 2-door Wrangler owners in 2012 can't be wrong.
The 4-door Wrangler Unlimited wasn't created to supplant the 2-door, but rather to supplement it. The 4-door Unlimited allows owners of 2-door Jeeps to upgrade into a bigger version of their beloved vehicle when their families grow; it also attracts a whole new group of owners who would never have considered a 2-door Wrangler. This is precisely why Jeep has been
struggling for years to produce enough Wranglers to keep up with demand
.
Jeep Wrangler Rubicon 2-door and 4-door
With 2012 sales of 2- and 4-door Wranglers totaling 141,000 units, Jeep obviously has a better idea of what customers want than The Truth About Cars' blogger does. Even Europeans have been catching onto the appeal of Jeeps lately, with a
60% rise in sales in 2012
. Sales of the Wrangler have been so consistently strong that at least
one blogger with more sense
has speculated that other manufacturers may soon make another attempt to capitalize on this popularity by competing against Jeep's ownership of this niche in the U.S. Perhaps that's the reasoning behind the new 2-door
Land Rover Range Rover Evoque
and
Mini Paceman
? Although quite different in purpose than the Wrangler, these two 2-door variants are similar to the Jeep in that all three are highly-stylish vehicles that stand out from a crowd of cookie-cutter cars.
In the free market, only the tough survive. The Wrangler hasn't just survived, it has thrived.