Thrandur Arnthorsson of 4x4OffRoads.com has written a great land-use article that dispels many of the myths and shares some great insight into the moral and environmental issues regarding offroad-capable vehicles.
Some of his key points include:

What is it about 4x4s that some people seem to hate?
I often wonder.
A lot of the reasons are based on misunderstanding or myths. There are even anti-4x4 organizations! And the sad truth is that governments and local authorities are listening to these voices with the unfortunate result of closing down of trails. Trails that have been used for decades to bring us closer to nature.
. . .
In the name of "protecting the wilderness" the trend in the world has been towards banning offroading and closing down trails. But our resources were not being protected FOR the public, but rather FROM the public. Popular areas in US like the Moab and Johnson Valley are under threat.
. . .
Offroading is not just getting off the beaten path and experiencing the thrill of driving across uncharted terrain. Most offroaders I know love nature and want to experience it in all its beauty and preserve it so our kids and grandkids can too. Spending time in nature is truly one of the best ways to experience the abundant beauty found on our planet.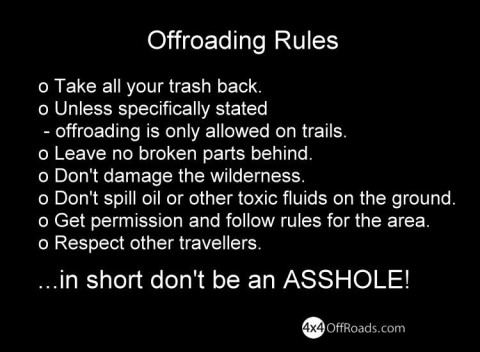 Give
the article
a good read and share your thoughts. We're all in this together as
true
environmentalists- we all love Mother Nature and want to enjoy it while preserving and protecting it for future generations. 4x4s are not the environmental destruction machines that the anti-access
faux
-environmentalists make us out to be.
If you want to help keep public lands open to the public, be sure to join
BlueRibbon Coalition
,
United Four Wheel Drive Associations
, and
Tread Lightly!