The latest of several Jeep Wrangler JK campers
The Jeep Wrangler JK is nothing if not versatile. What other vehicle can serve as a comfortable daily driver and successfully traverse the Rubicon Trail right out of the box? There are countless companies that have found ways to further extend the capabilities of the JK platform, but perhaps the most imaginative are those that convert it into a miniature RV.
Rooftop tents like the
ARB Simpson III
have been gaining popularity over the last decade and there are many companies offering them today. They are relatively quick and easy to remove and reasonably affordable, but they do not provide room to stand up inside or store much gear since they're little more than a double mattress with a fabric cover.
ARB Simpson III rooftop tent
AutoHome's hard-shell rooftop tent
The
EarthRoamer XV-JP
was the first cabover camper style semi-permanent setup for the Jeep Wrangler. It was a hardtop-replacement unit with a giant fold-open rooftop tent with standing room, a small bench seat, a sink, a toilet, and other conveniences. Sadly, the manufacturer
discontinued development and sales
.
EarthRoamer XV-JP
Thankfully,
Ursa Minor Vehicles
(J30 & J180) and
Adventure Trailers
(JK Habitat) have teamed up to offer a much less expensive, lower profile, and lighter weight hardtop-replacement camper option.
Ursa Minor J30
Ursa Minor J180
Adventure Trailers JK Habitat
If this is still a bit too basic for you, a new alternative that's closer in concept to the EarthRoamer is the new
Action Camper
by
Thaler Design
that
has
generated
a lot
of buzz
recently
. Your Jeep will weigh 440lbs. more with this cabover camper installed, but that will be offset by a wallet that's lighter by roughly $53,000 (not counting the Jeep).
Action Camper cab-over camper
Another option would be offroad-capable camper trailer, of which there are dozens to choose from. I happen to own a
Lifetime Tent Trailer
which I tow behind my own JK on challenging trails with only a few customizations to increase ground clearance by way of larger tires, but even
Jeep's Mopar division offers camp trailers
designed specifically for your Jeep.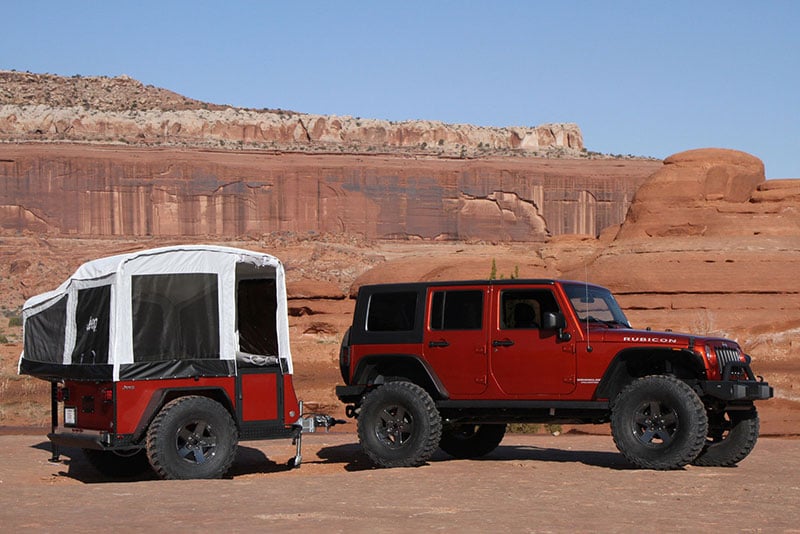 Mopar Jeep Camper Trailer