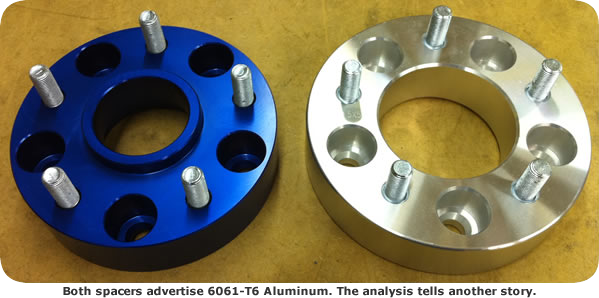 Spidertrax
just published another update to
their blog
with
a story about the importance of buying parts from reputable manufacturers
and the differences that can be found between domestic and imported parts, even when they're advertised as being identical quality. They use their wheel spacers as an example.
The article is well worth reading - enough so that
4Wheel Drive Magazine
(one of my favorites!) has
published
it not once (September 2010) but twice (July 2012). But above and beyond the materials difference between the two wheel spacers is the obvious machining differences: only Spidertrax's spacers are both wheel- and hubcentric, which is of critical importance for both strength and preventing wheel vibrations. Spidertrax's spacers are also double-anodized for corrosion resistance.
Readers of this blog will recall that I put a great deal of thought into the decision I made regarding what tires and wheels to choose for my own Jeep because I am unwilling to make sacrifices with my Jeep - I want nothing but the best. I ultimately found that
the original Jeep wheels combined with Spidertrax's wheel spacers
was truly the best option. To date, I have put about 3,000 miles on them in daily driving, road trips, sand dunes, snow and ice. I've rotated them once as well (properly bringing the spare tire into the rotation) and I can report that the
OEM wheels with Spidertrax Wheel Spacers
and
Treadwright Guard Dog retreads with Kedge Grip
have had no vibrations,
death wobble
, or any other negative behavior.
When the difference in price between the top-of-the-line wheel spacers and imitators of unknown quality is so little, why take chances? Spidertrax's products are of a known quality with independent analysis to back it up. They have proven to be popular- and reputable-enough that they have just released another size to choose from:
1.75 inches
to push the wheels out a bit further than the
1.5 inch size
that I installed on my Jeep.