Once I finally determined what size tires and what type of tires I wanted to fit on my Jeep, I had to start selecting from the dozens of different tread patterns available as a 35" tire for a 17" wheel. Extensive research and debate resulted in my choice being the 315/70-R17 Treadwright Guard Dog M/T.
Treadwright tires are different than any others in the light truck market. Instead of being a sub-brand of a larger tire manufacturing company (as are most big- and small-name tire brands) they take good tire casings with worn-out tread, and retread them into good-as-new tires. This results in much higher-quality tires than could otherwise be made for the prices they charge.
We have a 7 step process to ensure each tire meets our high standard of quality and safety:

1. We find "gently used" tires that have the highest grade. These used tires are inspected in 17 different areas before we accept them.
2. Once the tire is approved we buff the thin top layer of rubber from the tire.
3. Then a computerized machine wraps a continuous ribbon of new Full Grade Truck Rubber on the tire for the specific mold and tread design the tire will have.
4. We then computer balance each tire.
5. The tire is then "cured" and given a new tread design.
6. Once the tire has cooled we do a thorough inspection and testing of the tire to ensure it was made correctly and is safe for use.
7. Tires are then taped and shipped.
You can also visit their YouTube Channel to watch videos of the manufacturing process.
5/10/2012 Update: I just read this article on the growth and success of TreadWright and felt it was worth sharing with my readers.
The tread pattern on the Guard Dog may look very similar to the old Goodyear Wrangler MT/R tread pattern, but there are some significant differences. Whereas the Goodyear is absolutely a mud-terrain tire, the Treadwright is a hybrid all/mud-terrain design with a significantly tighter tread pattern than the Goodyears. The tread blocks are smaller with narrower voids between them, but they retain the full tread depth of a mud-terrain tire. They've also added additional sipes to the tread blocks to further increase the number of biting edges. The slightly less-aggressive tread compromises a bit of the tires' ultimate performance in mud, but it provides big gains in performance on asphalt, rock, dirt, wet roads, and particularly in snow & ice.
Treadwright Guard Dog M/T:
Goodyear Wrangler MT/R: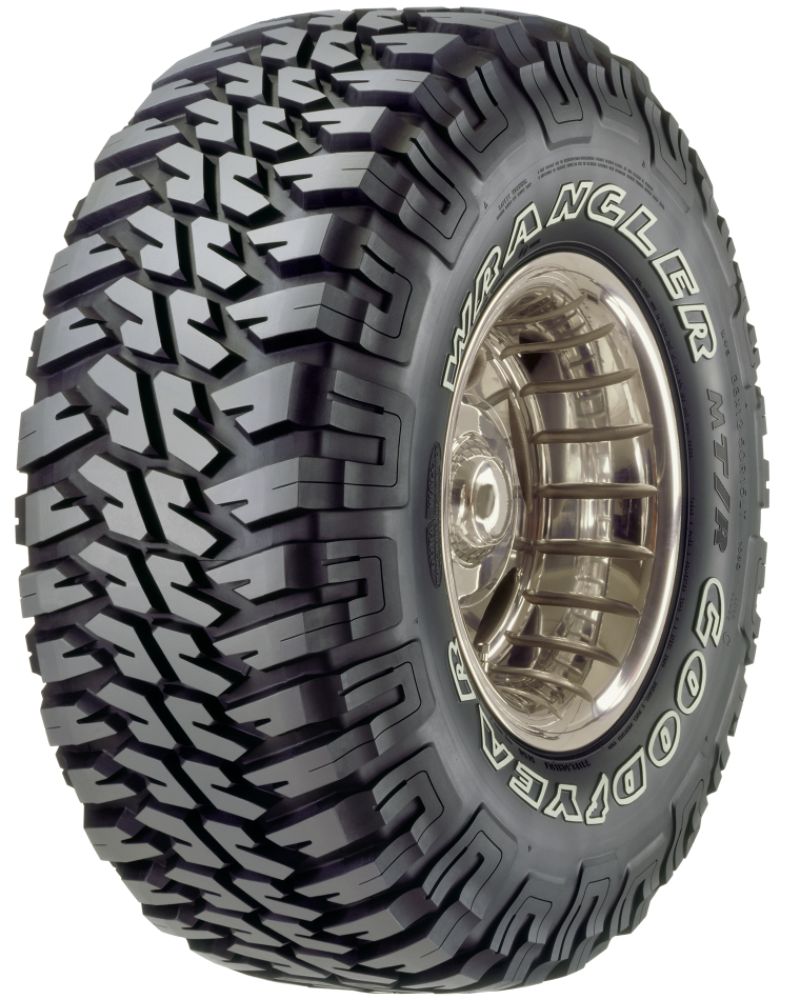 I appreciate the fact that Treadwright seems to be thinking outside of the box in finding a way to improve upon a mud-terrain tire's notoriously poor performance in wet, snowy, and icy roads. Kedge Grip is their name for the unique mix of crushed walnut shells and glass that they can optionally add to the liquid rubber before pouring it into the molds. Here's what they say about it:
Kedge Grip:

Our own unique blend of crushed (recycled) glass and crushed walnut shell particles blended into our full grade truck rubber. Kedge Grip acts in a twofold way; first the walnut shell is designed to come out leaving small (approximately 1 mm) size pits in the tread surface that will act as additional siping and create more traction edges to grip the road. The second is the crushed glass which is designed to stay in longer and create a gritty surface to help anchor you to the road.
MoabJeeper Magazine has long-term-tested multiple sets of Treadwright all/mud-terrain tires over the years and have written some refreshingly honest reviews. They've also posted a couple videos on YouTube:
Their only real criticism of the Treadwrights seemed to stem from the fact that they used a Load Range D tire under a lightweight TJ due to the limited availability of this tire in the larger sizes at the time of their review. Treadwright has addressed this issue by expanding their availability in larger sizes and a broader selection of load ranges.
Others have had good experience with Treadwright's tires too, such as the Carbon Neutral Expedition:
Based on my initial experience with 31" Guard Dogs on my Samurai, and since various reviews continue to be so overwhelmingly positive, I decided to go ahead and order a set of five Guard Dogs with Kedge Grip in the 315/70-R17 size. I had a very pleasant phone conversation when I ordered them, and was given an estimated shipping date of 10 days. That evening, I received an email with five FedEx tracking numbers, and three days later they arrived at my house. Under $1000 for five 35" tires delivered to my door is an awesome price!
Initial inspection of the tires was very favorable. They are on matching BFGoodrich All-Terrain T/A KO Load Range D casings with no scuffs, patches, plugs, or bruises anywhere. The tires are even balanced internally with a small patch glued to the inside of the tires, which simplifies the balancing process and minimizes how much weight is required. The crushed bits of walnut shells and glass are clearly visible in the tread blocks upon close inspection. My bathroom scale says they weigh 73 pounds each.
I took the tires to my local Big-O Tires to have them mounted on my OEM Rubicon wheels after I installed my suspension lift. They all balanced very well, each needing no more than 2.5 ounces of weight, making them the best-balanced set of 4x4 tires I've ever owned. Driving them on the road at up to 75mph has confirmed that there is no tire shake, steering shimmy, or other vibrations.
At this point, everything has met my expectations. Upon first driving the Jeep with the new tires, however, there were two small initial disappointments:
The first is that the tires were very slick in the rain when first mounted - no worse than the OEM BFGoodrich Mud-Terrains that they replaced, but not better as I was anticipating. I feared that the ESP traction control system light and I were going to continue to be best friends, but I was relieved to determine that this was simply a result of the coating of mold release agent from the manufacture of the tires. After a few days and a couple hundred miles, the release agent wore off and the tires are now exceeding my expectations for traction on wet and dry pavement.
The other issue is that the tires are a little bit noisier than I expected them to be. However, I suspect this is more a matter of perception than reality, because whereas the OEM BFGoodrich tires made a very loud but indistinct "white noise" that blended into the background, the Treadwrights produce a more obvious hum. The initial impression behind the wheel is that the Jeep is so much smoother and quieter now than it was on the original tires, but the Treadwrights' sound is more obvious than before because of the easily-pinpointed source of the noise; they have a distinctive "Swamper-lite" hum between 35mph and 65mph. Once up to speed on the highway, however, the hum is a high enough pitch that it fades into the background and is masked by wind and other road noises; it's not an issue on road trips. Overall, they're not as quiet as an All-Terrain tire, but they're not as loud as Mud-Terrain tire, which is exactly as one should expect from a hybrid tread pattern that splits the difference.
As of this writing I've only driven on the tires for 600 miles, but I'm very pleased with them so far. They've met every expectation for quality and daily driving duties, but I will provide regular updates on this blog as I get to test them in various terrain over the life of the tires. I'm very anxious to see how they compare with other All-Terrain and Mud-Terrain tires when I get them into the snow.
*** 8/1/2013 UPDATE ***
The Outdoor Channel Outfitters have reviewed the TreadWright Guard Dog M/T and have been very pleased with the tire's performance.
*** 9/13/2013 UPDATE ***
Off-Road.com has also favorably reviewed the TreadWright Guard Dog M/T. Their setup is very similar to mine: 4-door Jeep Wrangler with 315/70R17s on OEM wheels with Spidertrax wheel spacers.